PLANK at Salone del Mobile.Milano 2022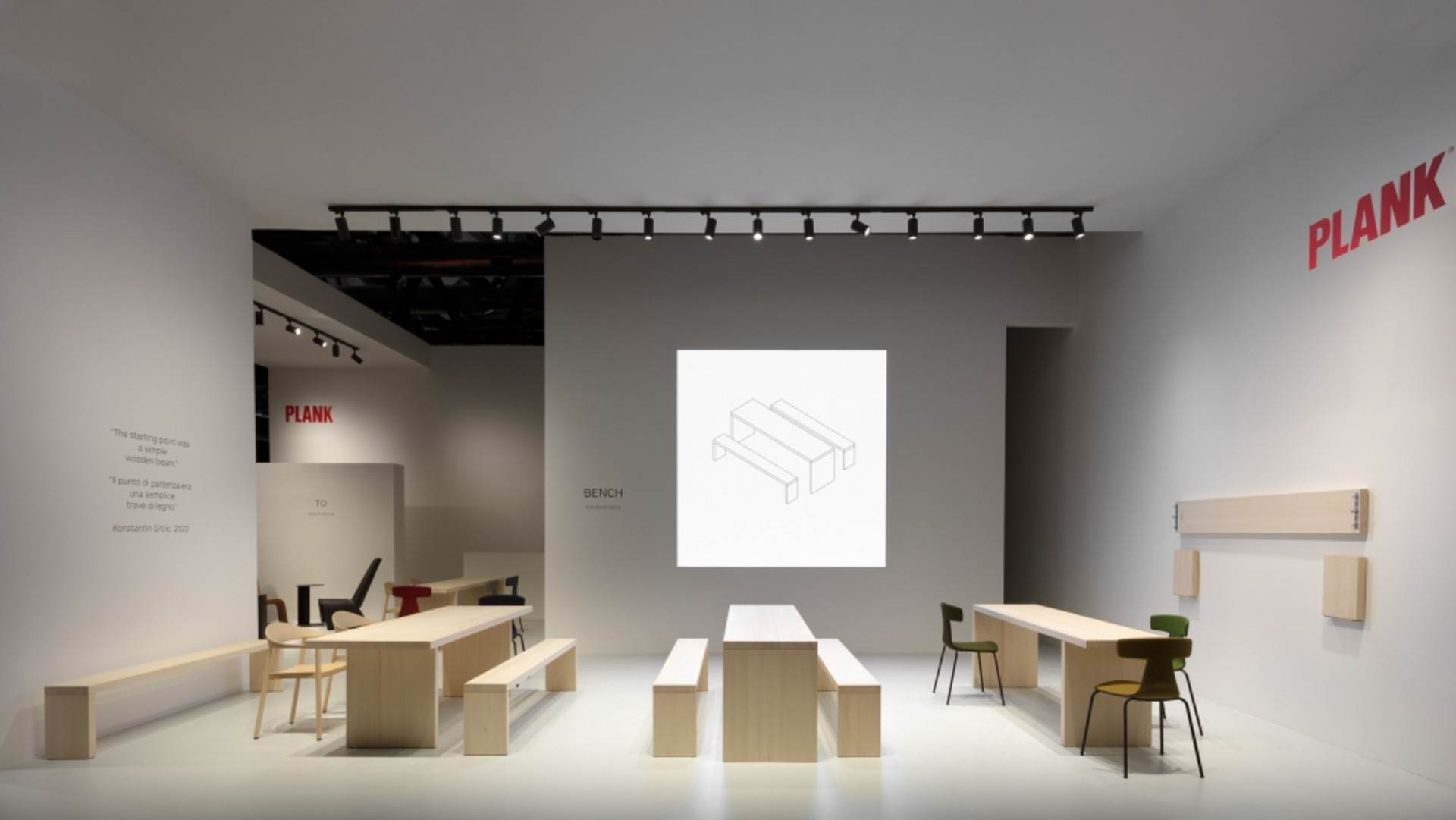 PLANK's presentation at the Salone del Mobile 2022 is marked by an intensive dedication to technological innovation, at the same time referring to the rich historical heritage of the company. The collaboration with the designers Konstantin Grcic and Naoto Fukasawa as well as the new partnership with Björn Dahlström, now result in the launch of new and timeless design objects: BENCH, TO und VELIT. The architecture of the stand reflects the company's tradition of always putting the product first. The skilful interplay of volumes between columns, ceiling, and floor, all deliberately kept in white tones, effectively showcases the new designs in a purist way.
BENCH and BENCH table, design Konstantin Grcic
Pushing creative boundaries while keeping an eye on industrialization. This simple formula could characterise the long-standing partnership between PLANK and Konstantin Grcic. 2022 sees the launch of their newest creations, BENCH and BENCH table. The starting point of this project was a plain wooden beam to sit on. Extending both ends of the beam down to the floor creates the legs of a simple bench. The inverted U-shape looks familiar, were it not for a special detail. Seat and legs are plugged together by means of an invisible pin connection, which requires no tools for assembly or disassembly.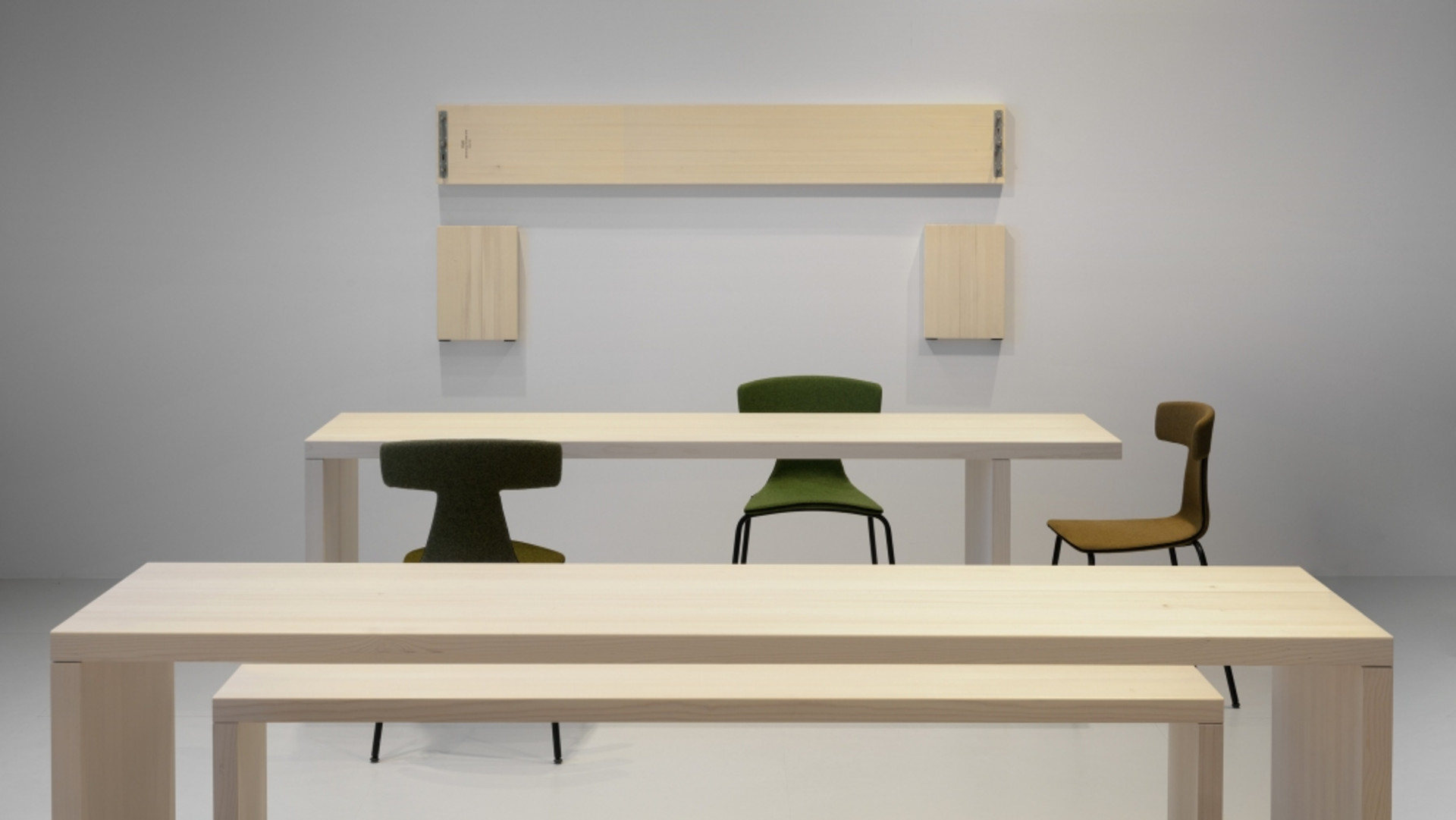 BENCH table was developed on the same construction principle and complements the bench harmoniously. While the bench is determined in its dimension and shape, the tables can be configured in different formats and leg positions. The timeless simplicity of the design allows BENCH and BENCH table to adapt to many different environments – public and domestic, traditional and modern, simple and elegant. The use of spruce wood, sourced from a local forestry, was a deliberate choice. It pays tribute to PLANK's legacy as manufacturer of traditional alpine chairs. It also stands for a timeless and long-lasting solution, which expresses PLANK's uncompromising dedication to the objectives of sustainability. BENCH connects - people, places, perspectives.
Product links:
VELIT chair, design Björn Dahlström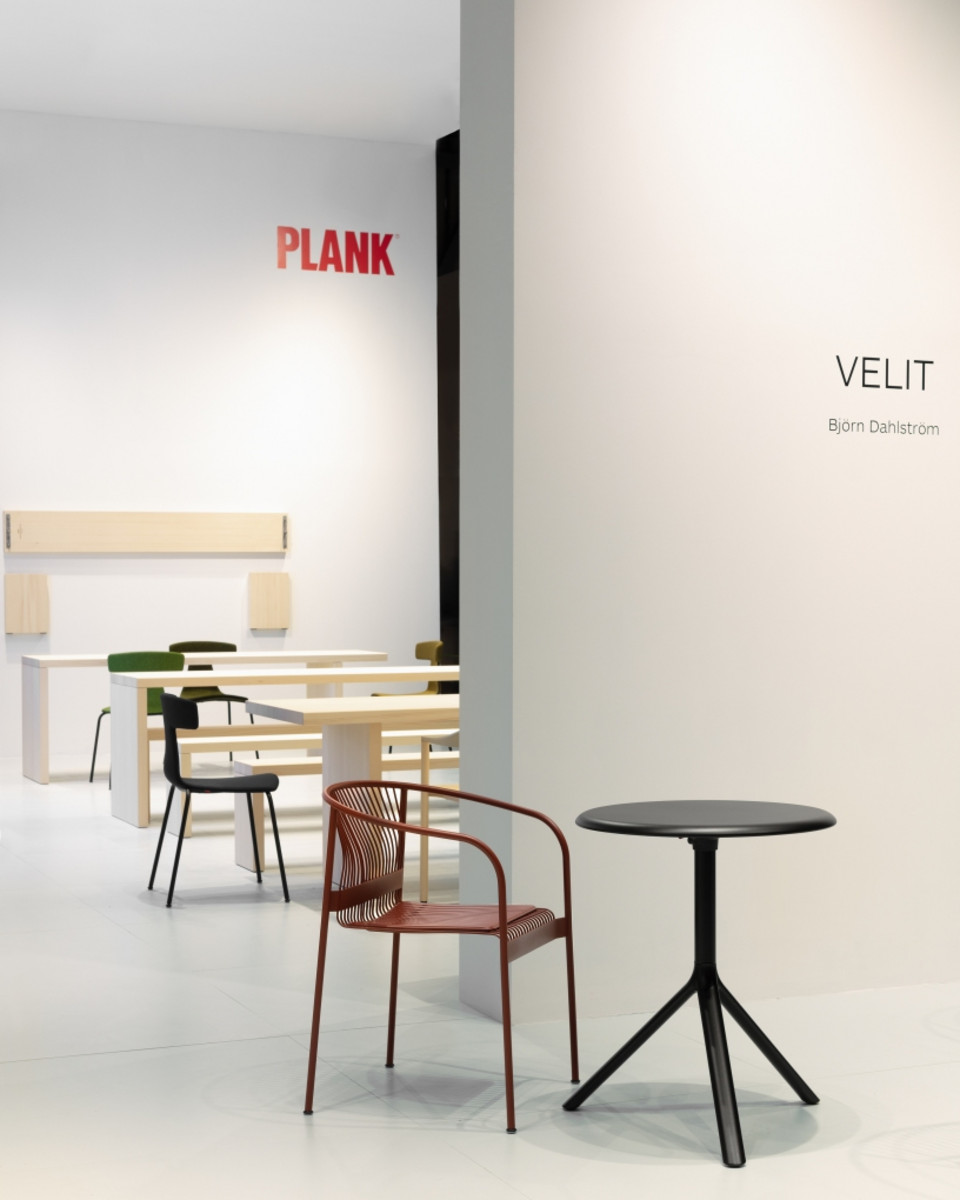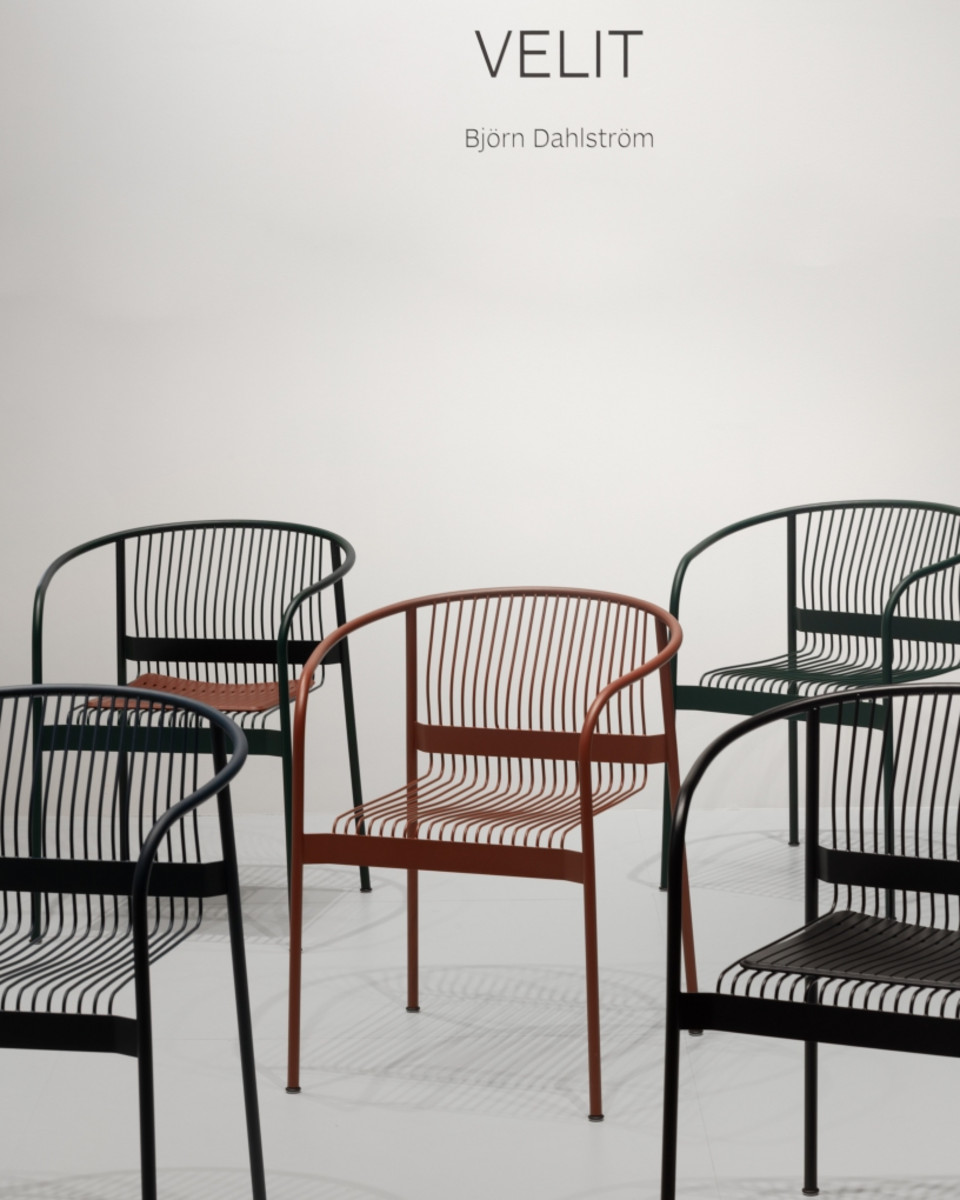 A combination of thin metal rods - each of them on their own being too fragile to cope with the given loads – is at the origin of the newest project for PLANK. Björn Dahlström's special relation with this material, developed through his continuous work regarding comfort and geometry, has given life to a formal experiment that combines ergonomics as well as effective and recyclable materials. His background as a graphic designer explains Dahlström's interest in the graphic quality of his designs. Hence his ambition to always achieve a strong visual relation to the user of a specific product. In the case of VELIT chair Björn compares the shaping of the wires to drawing single lines that merge into elaborate shapes. As a matter of fact, the two-dimensional design draft presented a challenge on a three-dimensional, technical level as wires must be placed and welded with utmost precision and accuracy. PLANK, known for decades for the technical execution of timeless design icons at the highest level, has mastered this task with flying colours. VELIT chair is destined as a stylish furniture item for indoors as well as for outdoors thanks to its weather-resistant consistency. As an add-on, a cushion, specifically designed to enhance the chair, further increases the seating comfort and makes of VELIT chair an allrounder suitable for multiple application areas. With these three products, PLANK once again proves that it always has its finger on the pulse. With great sensitivity, the company picks up on global trends and integrates them into the essence of the brand, resulting in objects of unparalleled quality in terms of concept, design, and technology.
Product links:
TO side table, design Naoto Fukasawa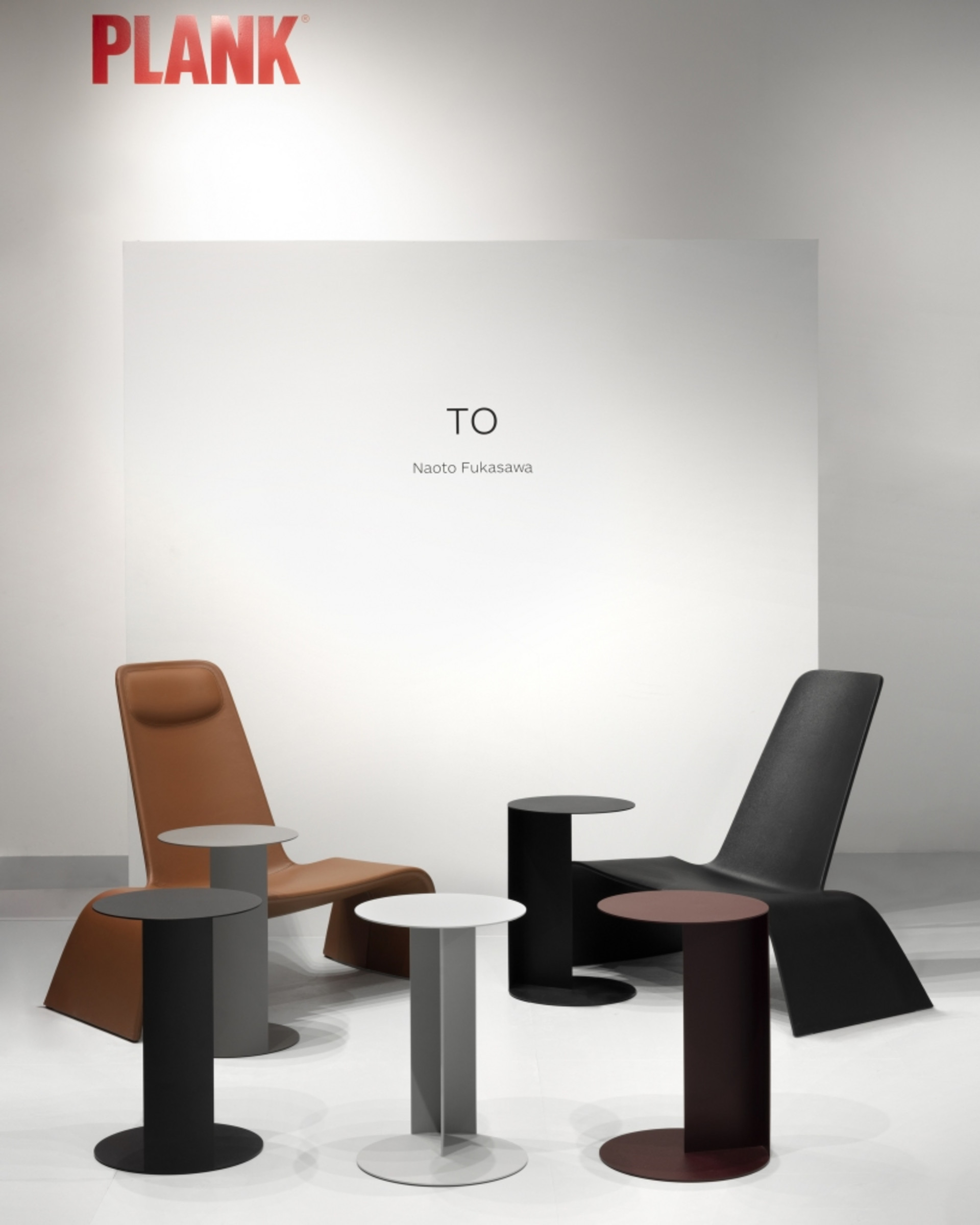 Naoto Fukasawa's newest project for PLANK has a personality of its own, conceived both to complement LAND lounge chair and to be an accessory to other furniture items. The aim of the project consisted in creating a strong and impactful yet essential geometry while simultaneously minimizing the making process. TO side table embodies Naoto's design philosophy at its best with its essential demeanour. T-shaped columns and an O-shaped top and base defined the table design. All the steel plates are 4mm in thickness, displaying a bare structure. A simple form that blends into any scene and fits multiple purposes, being unpretentious and striking at the same time. Application areas: domestic use, contract, public environment
Product links:
REMO upholstered chair, design Konstantin Grcic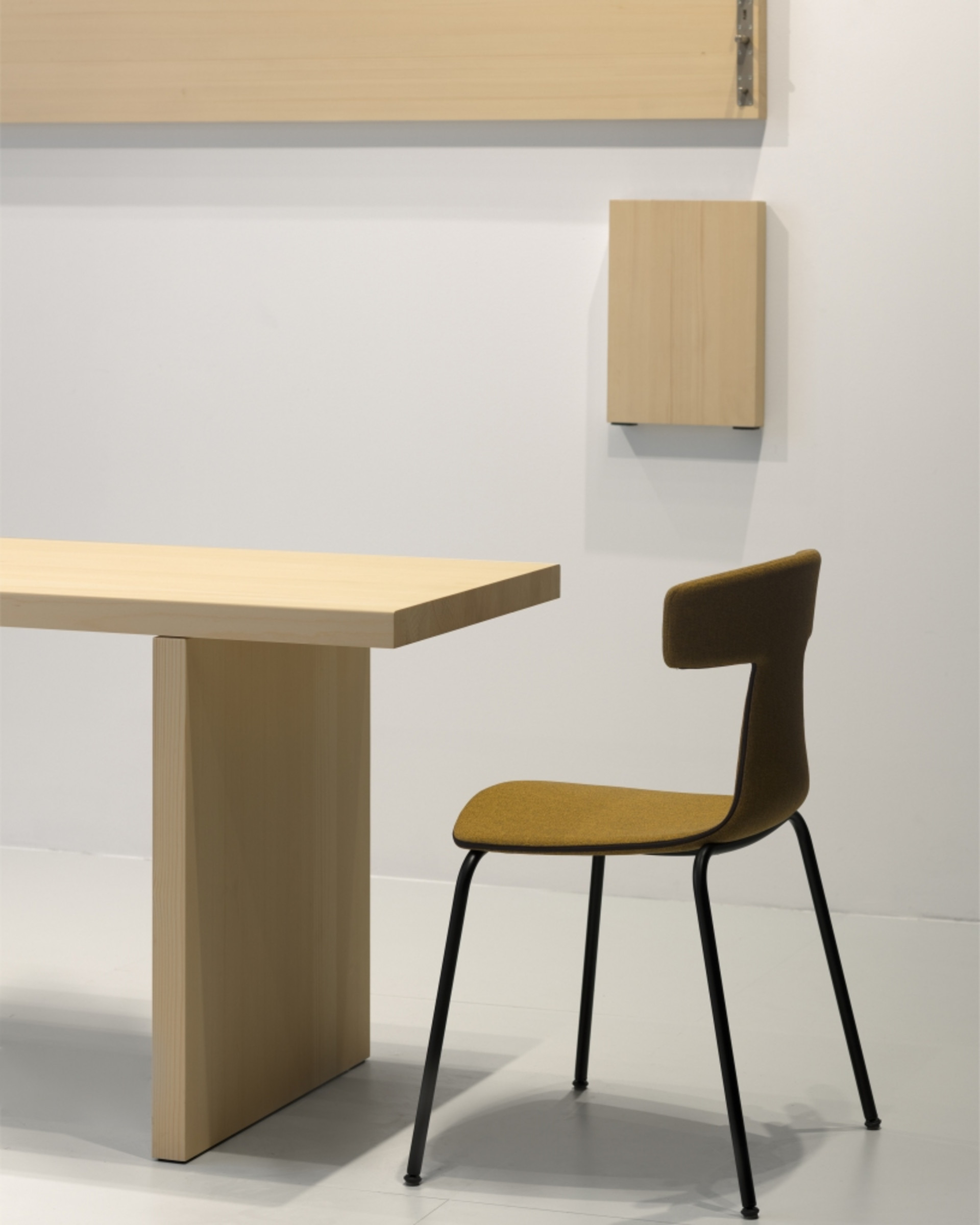 In 2022, the REMO collection, conceived in 2015 by Konstantin Grcic for PLANK, is extended with an upholstered version. The fully upholstered shell captivates with high-quality workmanship. The flexibility of the backrest brings comfort and movement. The black hinge in combination with the black powder-coated metal tube frame contrasts with the light and coloured upholstery versions and blends in with the elegant dark shades. In fabric or leather, REMO in the upholstered version is an elegant addition to the living area, as a light chair in the office or in the various areas of use in hotels, bars and restaurants.
Product links: