Color changing creates unique MIURA stools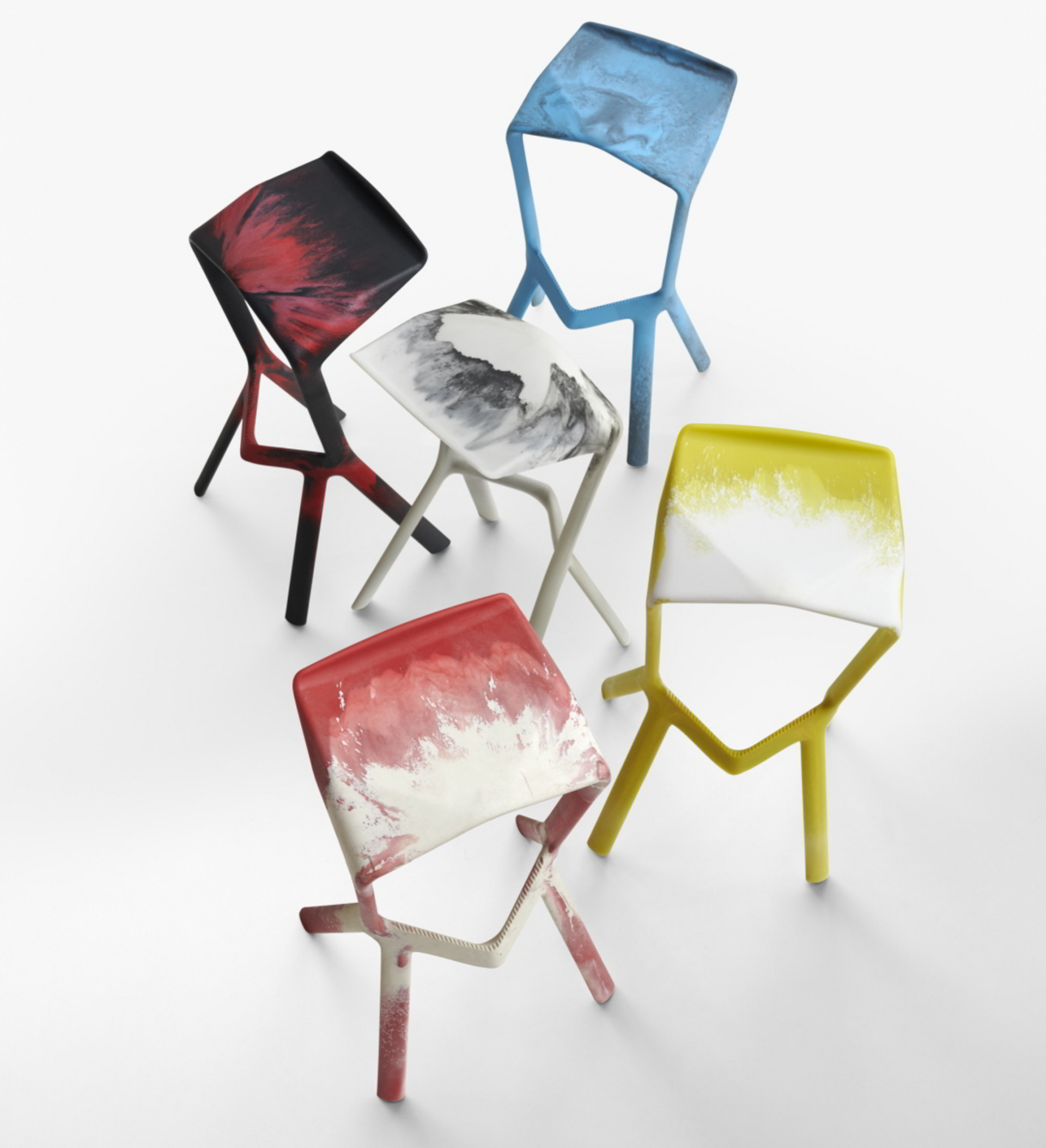 When PLANK produces its iconic MIURA stool, the process of switching between different coloured plastics results in special pieces where the two colours combine in the mould. These unique objects would usually be discarded, but instead PLANK collects the examples that best express this quirk of the manufacturing process. Michael Plank explains how he sees these stools as a kind of "beautiful waste" that reflects PLANK's positive attitude towards sustainability.
For anyone who isn't familiar with the MIURA stool, can you briefly tell the story of how it was developed?
The MIURA stool was the result of PLANK's first collaboration with Konstantin Grcic. We met in 2003 and spent two years developing a stackable, affordable, single-height stool that is made from injection-moulded plastic. MIURA was launched at Salone del Mobile in Milan in 2005. Since then, the stool has become one of PLANK's most iconic and recognised products.
How is the MIURA stool manufactured and how does this process lead to the creation of these colour-change stools?
The stools are made by heating plastic granules and injecting the melted material into a large mould. When we manufacture a batch of 3,000 stools, for example, we might make 400 or 600 in different colours so there will be roughly six colour changes. When we change colours, whether it's from yellow-green to red or from white to blue, there is always still a bit of the previous colour left behind. This material fuses together with the new colour and it takes two or three pieces to produce a stool with a perfectly uniform colour. That means there are between six and ten "imperfect" stools that would normally be recycled. Instead, we collect them for special projects, because we believe each of these pieces is beautiful and unique.
Do you keep all of these "imperfect" pieces and what do you do with them?
No, normally the changeover stools are recycled back into the production system. We only select the examples with the most expressive and interesting surface patterns. We collect them for special projects.
Do you have any control over what these stools look like?
Not really, it's more like an art piece because you don't know what's going to come out. It's like the creative process of the machine pushing out this material. We produce a large number of these stools but each time everyone at the factory is curious to see what will emerge!
How does the way you treat these items, which most other companies would simply discard, reflect PLANK's attitudes towards sustainability and reducing waste?
There is always industrial waste when you produce plastic products. I believe these changeover stools are a kind of beautiful waste. If we can communicate and celebrate that idea, I think it makes a positive statement about the need to reduce waste during production.
How else does PLANK try to reduce waste and operate more sustainably?
I think the most important point when designing a product is that it can be used for as long as possible. To me, that's the best way to manufacture more sustainably. At PLANK, we don't produce many new designs each year. We take time to think and reflect on what we want to say as a brand. We strive for durable and timeless products that don't follow trends.
Why are these pieces more valuable than the standard MIURA stools?
Only a handful are produced for every 400 or 600 stools in the production run. They are more like limited-edition art pieces and are considered quite collectable. We also work with photographer Miro Zagnoli to document the stools. He carefully groups the colours to create images that are like an artwork in their own right.
Finally, do you have one at home and what do people think of it?
Yes, I have one in my home. When people see it at first they often don't realise it's plastic because it looks almost like marble. It's blue and white and the mixture of the colours extends beyond the seat to the legs so it looks as if it is carved from a single block of material. It's very special.
UPDATES
Receive product updates and inspirations: