12/Mittagskultur by NEOOS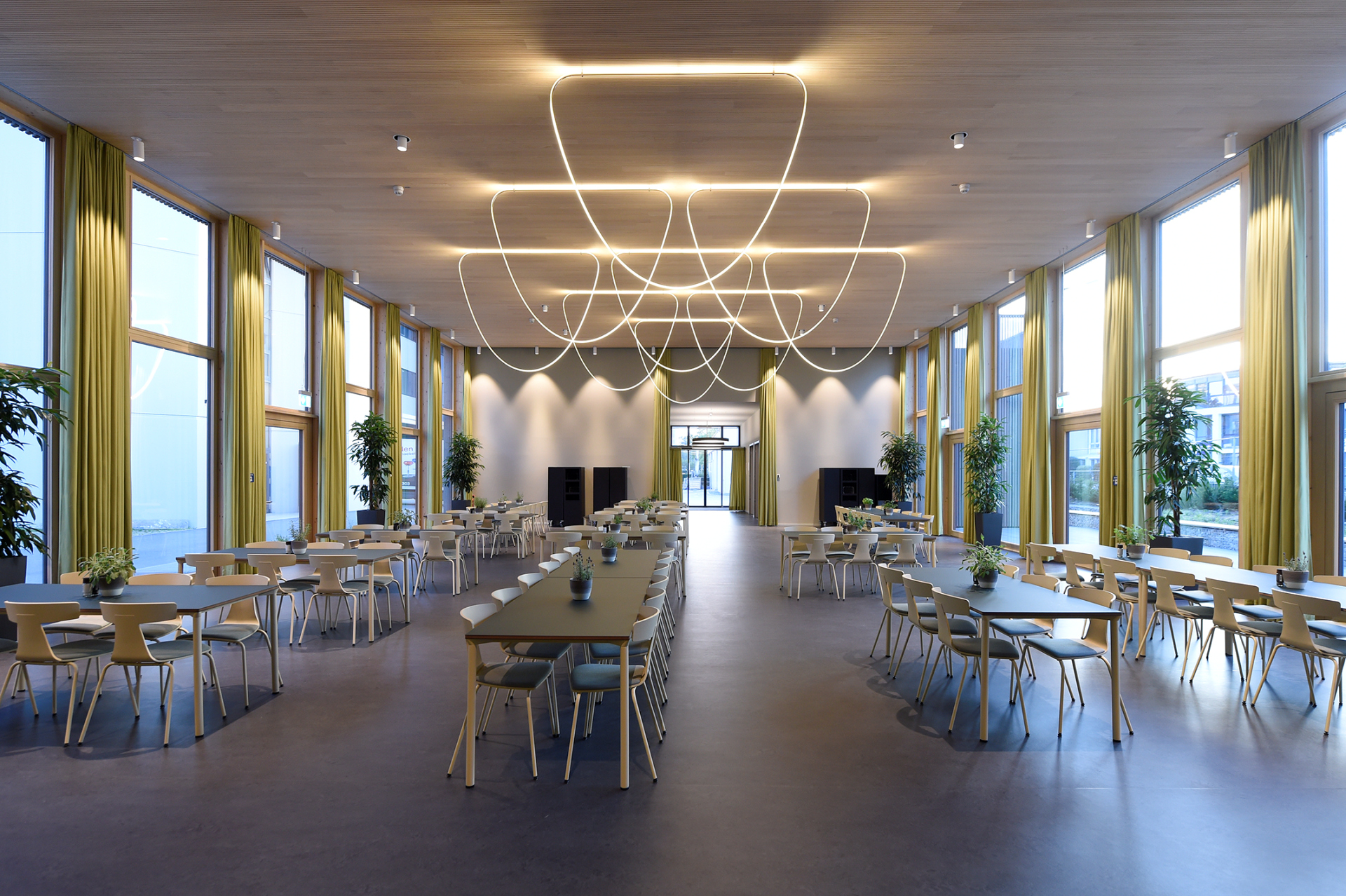 The 12/Mittagskultur restaurant is a favoured lunch destination for workers at the TM50 commercial estate on the outskirts of Nuremberg. Located next to a busy road and surrounded by offices, retail spaces and storage units, the simple, timber-clad box sits quietly in its light industrial context. Inside, the bright and comfortable space provides an ideal setting in which to savour restaurateur Jens Brockerhof's seasonal and regional menu.
The restaurant was designed by local architecture office NEOOS, whose founders Udo Kloos and Markus Honka were tasked with creating a multipurpose hall that can also be used for hosting events. Here, they explain how they used honest materials to complement the restaurant's unfussy cuisine, and how their choice of versatile furniture including the MONZA table and REMO chair enables the space to transform from day to night.
Before we discuss your 12/Mittagskultur restaurant project, tell us something about why you founded NEOOS and what its philosophy is.
Udo Kloos - Markus and I met 25 years ago during our studies at the art academy in Nuremberg. We worked together frequently on various projects until we decided to establish our own business about ten years ago.
Markus Honka - Our studio's aim is not to be the best or the biggest but to match the customer's attitude and ideas. Many of the things we do are not visible because they are about creating a feeling. It's about acoustics or subtle moments that you can't point to. When it comes to restaurants or cafes this is something we think is especially important.
What was the starting point for the 12/Mittagskultur project and what did you want to achieve with this building?
Udo Kloos - The brief for the project was to expand the existing cafe at this industrial site to create a large canteen. The canteen needed to be able to seat 120 people and it also needed to be a multipurpose space suitable for meetings, conventions, small concerts or theatre performances.
Markus Honka - We were originally asked just to work on the facade but when we looked at the floor plan we realised it was somehow awkward. By asking a few important questions we realised we had to rethink the building and in the end we developed the entire architecture.
Jens Brockerhof's eateries seek to emphasise the connection between people and nature through gastronomy. What does he think of the design for 12/Mittagskultur and how does the space support his philosophy?
Udo Kloos - Jens is very happy with the result. He got a super environment that matches the perfect quality of the products he offers. The idea was to offer amazing food made using regional ingredients for people that need a quick lunch. Jens' workshop is the kitchen so we used copper as a material that relates to the kitchen. The copper is complemented by linoleum surfaces and wooden furniture. Like Jens, our approach to architecture is very honest so we use untreated materials that will develop a patina and improve with age.
How does the furniture contribute to the dining experience at 12/Mittagskultur, as well as the overall functionality of the building?
Markus Honka - We didn't want upholstered furniture because people won't spend the entire afternoon there. The REMO chair by Konstantin Grcic is very comfortable. It is also lightweight and easy to stack so the room can be cleared for hosting events.
Udo Kloos - We chose the MONZA table because we had the opportunity to create a custom size. We wanted a large size to help create a communal environment, more like a canteen than a formal restaurant. The size also means you only need 12 tables in the space, which makes it easier to clear them away.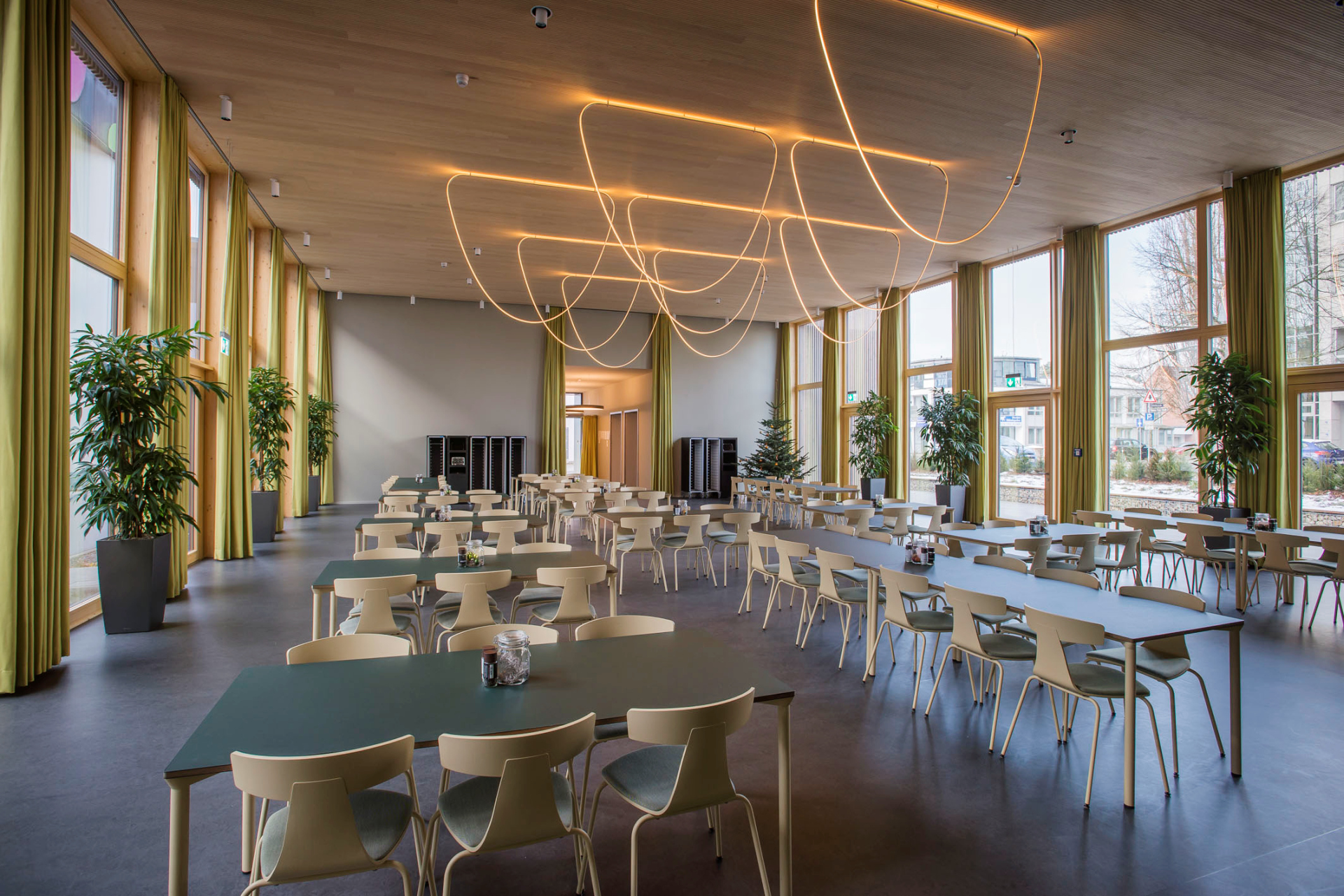 What other details did you work on that contribute to the atmosphere and character of 12/Mittagskultur?
Markus Honka - Acoustics are very important in a restaurant so we covered the ceiling with wooden acoustic panels. It's amazing what a difference it makes in such a big hall. If you are sitting at a table with six people you can still have a conversation with someone.
Udo Kloos - We also created the custom-made lighting fixtures for the ceiling. There is a road passing the canteen and we had the idea that as you pass the building and the light is on, you will always have a different view. There was no chandelier available that did what we wanted so we made them ourselves using LED strips embedded in a flexible element that hangs down like a rope.
In what ways does this project represent your approach to design as a studio?
Udo Kloos - We try to pay attention to the details and in this project the small details make a big difference, especially the lighting and acoustics.
Markus Honka - We see product design as part of our practise and the lighting solution we created for 12/Mittagskultur is a good example.
UPDATES
Receive product updates and inspirations: