During this year's Salone del Mobile in Milan, Plank launched the new FILA table and CUP Lounge Chair & tables designed by Konstantin Grcic. To enrich the LAND collection, Naoto Fukasawa designed an Ottoman for the LAND outdoor version as well as a new fully upholstered version of the LAND Lounge chair.

FILA table, design Konstantin Grcic
Imagine a table, the simplest of tables: a top and four legs; one in each corner. The minimalistic outline of this table is made of uniform aluminium profiles and finished with a thin solid core table top. Taking a closer look at the framework reveals the table's modular construction: each corner has a solid aluminium corner joint connecting the extruded crossbars and legs. Very long tables would have two additional joints adding a fifth and sixth leg. An even longer table can have eight legs or twelve… and so on. FILA is an engineered system. The joints are milled not cast, which produces a seamless precision between the elements. A distinct chamfer running down the outside edge of each corner leg is FILA's signature detail and proof of the special attention to workmanship and quality. FILA is produced in a range of standard sizes or can be made to measure. The aluminium framework is anodized in silver, gold or black. The table top in FENIX NTM® offers an extremely durable material, which is soft to touch and anti-fingerprint.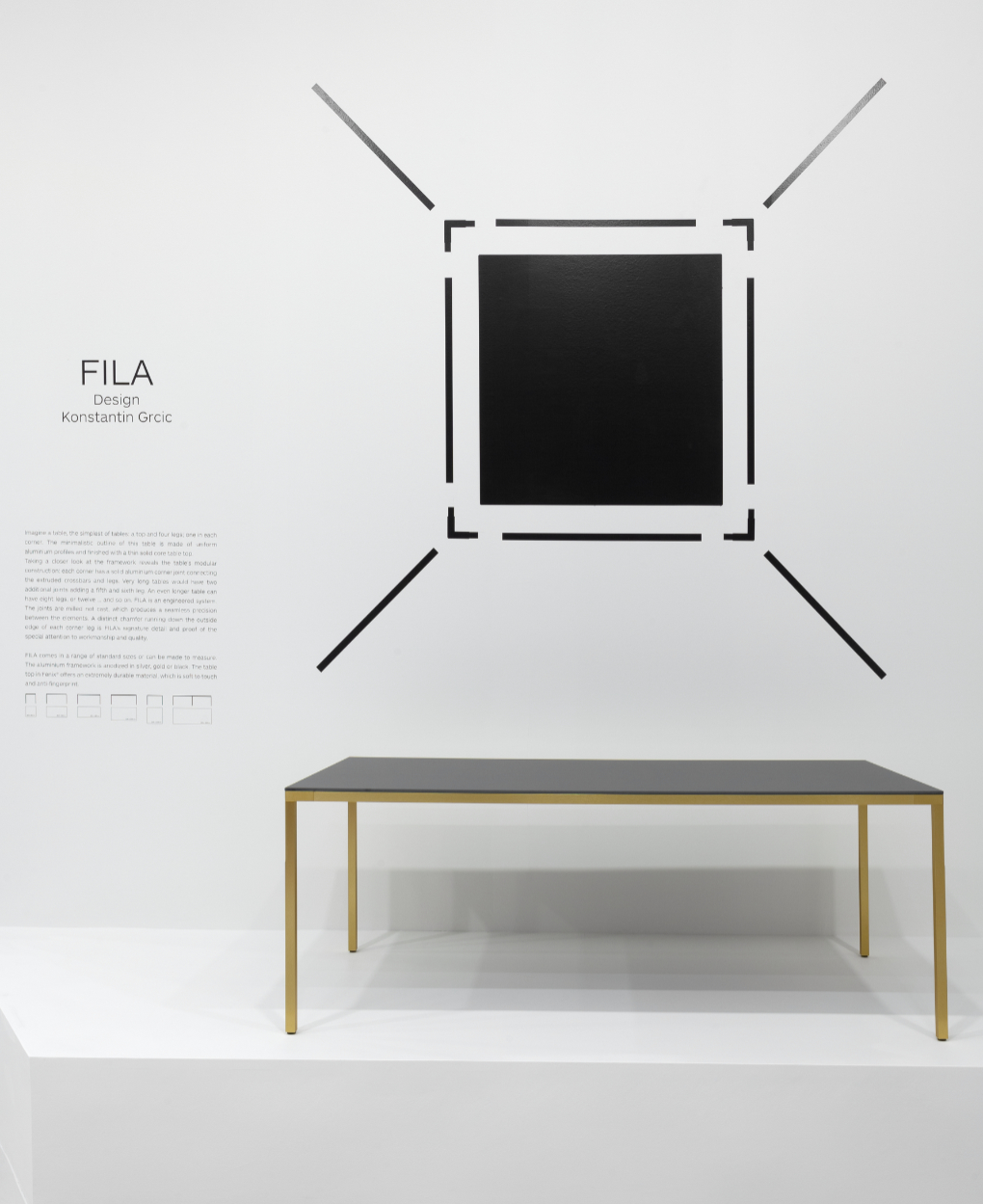 CUP Lounge chair & tables, design Konstantin Grcic
As a traveller one has come to appreciate the benefits of plastic shell suitcases. They are extremely light and flexible, yet strong and good looking. Suitcases made of thin vacuum-formed plastic sheets have revolutionised an entire product species. As a furniture designer I was struck by the ingenuity of this technology, considering how appropriate it was to the production and performance of modern chair shells. The creative potential seemed obvious. However, translating it into a successful formula for a chair took time and learning. With CUP we have developed an elegant geometry for the shell, which combines structural strength with a high degree of flexibility and lightness. The upholstered inside of the shell adds a well-balanced ergonomic quality to the chair, making it a perfect choice for conference situations, waiting and dining areas. The shell in black or white plastic can be combined with an infinite range of fabrics and colours, depending on whether it has to blend with the environment or to be the protagonist.
The CUP collection consists of a small armchair, lounge chair and stackable tables.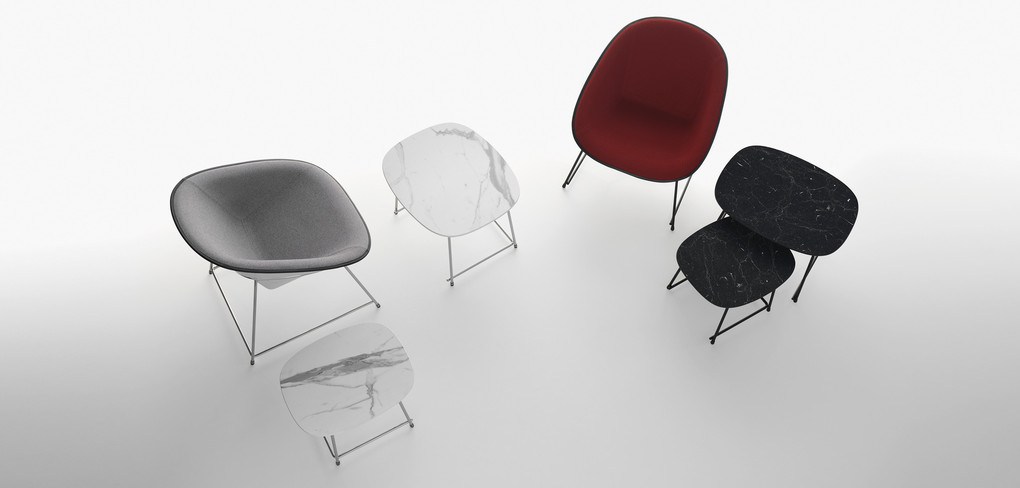 LAND Lounge chair, design Naoto Fukasawa
With its LAND chair, designed by Naoto Fukasawa, Plank has widened its lounge collection. A design distinctive for its pure lines, it seeks to balance the relation between form and character, expression and fluidity. LAND is a lounge chair made in soft polyurethane moulding for indoor and rotational plastic mould technology for outdoor. The Outdoor version is enriched with an ottoman that increases its functionality. The low, slightly inclined seat of the LAND lounge chairs promotes a relaxed posture with outstretched legs and supported back. At the same time, it provides the feeling of sitting in a sports car. Ideal for lounges and waiting areas.